The Zambian delegation led by the Hon. Chief Justice Mrs. Irene C. Mambilima clad in national colours in readiness for the official opening of the IAWJ 14th Biennial Conference May 2 – 6 2018 Buenos Aires Argentina 
The Honourable Chief Justice of the Republic of Zambia Mrs. Justice Irene C. Mambilima is leading an 11- member
delegation to the 14th Biennial Conference of the International Association of Women Judges (IAWJ) in the Argentine capital, Buenos Aires which is being held from 2nd to 6th May, 2018.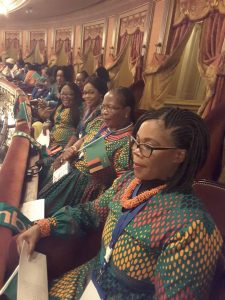 The Conference whose theme is "Building bridges between women judges of the world" has attracted participation of over 1,000 women judges from 78 countries.
The Conference opened with a strong call for women judges to continue to advance their moral and legal duty to fight gender based violence, human trafficking and other forms of inequality against women and girls.
That the Judges should continue to build bridges that will make the environment safer and freer for women and girls to traverse.
The delegation comprises the Zambia Association of Women Judges President Hon. Lady Justice Roydah Kaoma, Vice president Hon. Lady Justice Gertrude Chawatama, High Court Judges Hon. Lady Justice Mwamba Chanda and Hon. Lady Justice Petronella Ngulube, Chief Administrator Ms. Nalishebo Imataa, Deputy Director Administration Mr. Kangwa Ngandu, Principal Resident Magistrate Ms. Mwaka Mikalile, Senior Research Advocates Ms. Ruth Chilembo and Ms. Janet Ilunga, Protocol Officer Mr. Lekeshya Kaunda and Personal Assistant to the Chief Justice Ms. Patricia Bowa.
The IAWJ is a non-profit, non-governmental organization founded in 1991. The organisation brings together judges from all levels of the judiciary worldwide, creating a powerful network of influential leaders united by their commitment to equal justice and the rule of law. Through judicial and community level response, the body addresses issues of gender-based violence, human trafficking, early and forced marriages, corruption, and discrimination in employment, inheritance, education, and health services.  While the role of judges is largely in enforcement of law, guaranteeing rights, and even striking down discriminatory laws and practices, IAWJ members go further by providing expert opinion in law reform, overseeing correctional or other facilities (e.g., reform schools, orphanages), and educating community members.