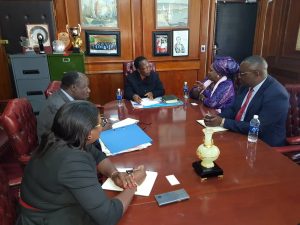 UNITED NATIONS RESIDENT COORDINATOR COURTESY CALL ON THE CHIEF JUSTICE
Lusaka 10th December 2019 – Her Ladyship the Hon. ChiefJustice today thanked the United Nations Resident Coordinator Dr. Coumba Mar Gardio for the continuous partnership with the Judiciary which supports access to justice as outlined in the Seventh National Development Plan. The Chief Justice said this during a courtesy call paid on the Judiciary by the UNRC. In the meeting were His Lordship the Hon. Deputy Chief Justice Hon. Mr. Justice Michael Musonda SC, and the Chief Administrator, Ms. Nalishebo Imataa. 
The meeting focused on strengthening the bilateral relationship between the Judiciary and the United Nations (UN) in topical areas such as the continued fight against Gender Based Violence (GBV), and capacity building for adjudicators in conducting GBV cases. So far, 6 GBV Fast Track and User Friendly Courts have been constructed at Lusaka, Kabwe, Choma, Chipata, Ndola and Mongu, to assist in the speedy disposal of GBV cases which are prone to interference with passage of time. The Chief Justice highlighted a case at the Kabwe GBV court in which a matter was disposed off within 24hours as an example of the difference that the GBV courts are making in the justice system.
She further highlighted interventions made in improving access to justice for differently abled members of society such as the introduction of sign language interpreters, and including wheel chair ramps in newly constructed buildings, as well as plans to modify already existing buildings. 
The Hon. Deputy Chief Justice echoed the Chief Justice's sentiments on the need for capacity building for adjudicators in GBV matters which are a priority area. He shared that the Judiciary has entered a partnership with the National Centre for State Courts (NCSC) on the implementation of a Case Management System that will assist in enhancing efficiency, and that there is need to secure funding for the required software. 
Dr. Coumba Mar Gardio assured the Judiciary of continued support in phase 2 of construction of GBV courts, as well as other areas of need that would require support from the UN.