Courtesy Call By the Former President of Mongolia.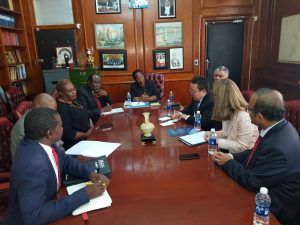 The former president of Mongolia, Mr. Tsakhia Elbegdorj who is also Commissioner for the International Commission against Death Penalty,  praised the judiciary of Zambia for being advanced in the dispensation of justice as compared to other jurisdictions. The former Mongolian President, said this during a courtesy call paid on Her Ladyship the Hon. Chief Justice Mrs. Justice Irene C. Mambilima. The aim of the courtesy call was to foster the campaign on abolishing the death penalty.
Among those accompanying the former Mongolian President were the Hon. Minister of Justice, Mr. Given Lubinda, Ms. Asunta V. Cavaller Executive Director International Commission against Death Penalty and Mr. Rajiv Narayan, Director of Policy International Commission against Death Penalty, officers from the Human Rights Commission of Zambia, and officials from the ministry of justice.
The Chief Justice stated that adjudication in Zambia is based on the law, which is the will of the people. She said that judges interpret the law and abide by what is stipulated in relevant statutes in the exercise of their duties, and exercise extra care in their decisions. She outlined Murder, Treason and Aggravated Robbery as the three capital offences to which the death penalty applies in Zambia, in the event that there are no extenuating circumstances.
The Chief Justice added that the judiciary has put in place an administrative intervention whereby all cases in which the death penalty is meted out must be brought before the Supreme Court, even in the event that there is no appeal against the sentence, and that the State has ensured that all offenders facing the death sentence receive legal representation through the Legal Aid Board.
Her Ladyship said that abolishing the death penalty in Zambia is not a decision of the judiciary, but a preserve of the people of Zambia through their representatives in parliament.
His Lordship the Hon. Deputy Chief Justice Mr. Justice Michael Musonda, SC reiterated the Chief Justice's comments that the role of judges is to enforce the law as it is. He added that over the years, Zambia has seen a reduction in the number of death sentences and that there has been a moratorium on its executions of death penalty for the past 22 years.