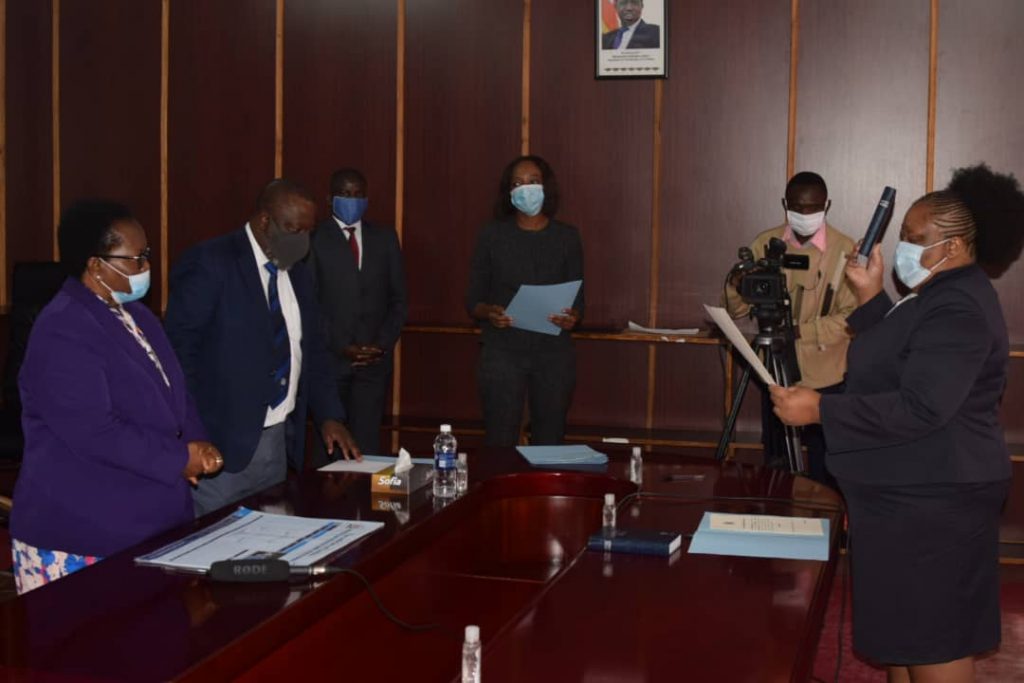 Her Ladyship the Hon. Chief Justice Irene C. Mambilima on Wednesday 20th May 2020 swore in members of the Capital Markets Tribunal. The members of the tribunal were appointed by the Hon. Minster of Finance, pursuant to Section 185 of the Securities Act, No.41 of 2016. The mandate of the tribunal is to hear and determine appeals from decisions of the Securities and Exchange Commission; cases of misconduct in the securities market; and other matters specified in the Securities Act or any other written law. 
The Hon. Chief Justice in her congratulatory remarks reminded the members of the tribunal to uphold the principals of natural justice in the exercise of their duties, as well as the need for expediency in dispute resolution.
Her Ladyship expressed her faith in the complimentary competencies of the members of the tribunal, and emphasized the importance of their role in impacting the Zambian economy. She further advised the members of the tribunal to guard against falling into backlog and highlighted the interventions by the Judiciary in dismantling backlog through the Taskforce on Backlog created in June 2018.
The Hon. Chief Justice observed that the members of the tribunal would be performing an adjudicative function, and as such, emphasized the need for impartiality in exercisingtheir duties.
The members of the Capital Markets Tribunal sworn in are as follows:
Mrs. Chanda Nkholoma Tembo – Chairperson
Mr. Martin Muyayi Lukwasa- Vice Chairperson
Dr. Pamela Mambwe Nakamba- Member
Mr. Maybin Muyawala- Member
Mr. Bonna Kashinga- Member
Mr. Mwewa Chola- Registrar