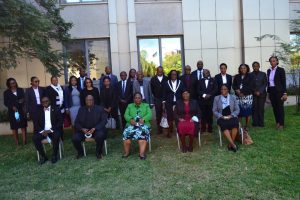 Lusaka 8th May 2021– Her ladyship the Hon. Chief Justice Mrs. Irene C. Mambilima yesterday morning officiated at the opening ceremony of the Constitutional Court Judges Induction and Comparative Electoral Justice in Presidential Elections taking place at the Radisson Blu Hotel in Lusaka from 7th – 8th May 2021.
The two-day induction programme covers topics such as the Public Expectations of the Constitutional Court and How to Rise to the Challenges that May Arise, the Law and Practice Regarding the Determination of Presidential Election Petitions: the Kenyan experience, and the Law and Practice Regarding the Determination of Presidential Election Petitions: The Zimbabwe Experience.
In her keynote address, the Hon. Chief Justice begun by congratulating the newly appointed Judges of the Constitutional Court. She stated that the elections for president, parliamentary and local government were just a few months away and as such this oncoming period would be busy for the court. She took the occasion to remind the honourable judges of their paramount role in hearing and determining election matters judiciously, in essence the hallmark of a good Judge is that they must conduct their judicial functions in a firm but fair and impartial manner.
Speaking at the same event, the Hon. Chief Justice Malaba of Zimbabwe encouraged the Judges to manage proceedings in their courts and where possible make judgements summarily. He called upon the judges to control court proceedings in order for the court to be able to discharge its mandate within the stipulated timeframe. Therefore, the parties coming before the court must be well prepared and ready to prosecute their case based on facts.
The Hon. Judges also benefitted from the Kenyan experience as it relates to the handling of Presidential Election Petitions. The Hon. Chief Justice Emeritus of Kenya Hon. Mr. Justice David Kenani Maraga emphasised that it is important that the honourable judges share experiences, highlights and mistakes made during the hearing of the previous election petitions. This enabled the court to move the process in a timely manner and also of note was that all the parties to the petition were required to adhere to timelines.
Contact
Kalumba Chisambisha-Slavin
Judiciary of Zambia
Email: kalumba.slavin@judiciaryzambia.com