---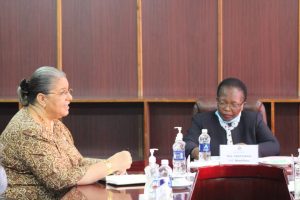 Lusaka Friday, 4th June 2021 – Her Excellency Madam Hannah Tetteh the United Nations (UN) Special Representative of the Secretary General to the African Union pledged the support of the UN to the Judiciary of Zambia in the Electoral Process.
She said this during a courtesy call paid on Her Ladyship the Hon. Chief Justice Mrs. Justice Irene C. Mambilima yesterday, Thursday, 3rd June 2021. The Hon. Chief Justice was accompanied by the Hon. President of the Constitutional Court Hon. Lady Justice Hildah Chibomba and the Judges of the Constitutional Court.
The Chief Justice thanked the UN for pledging technical support to the Judiciary. She said that the period of elections is an emotive period as elections are a contest for power, placing the Judiciary at the centre of dispute resolution. She informed the UN delegation of the interventions put in place by the Judiciary in ensuring timely resolution of disputes. She highlighted the Constitutional Court Amendment Rules, SI No. 29 of 2021, relating to Presidential Election Petitions, which provide for submission of evidence through affidavits as opposed to oral submissions as was the case in previous Presidential Election Petitions.
She further informed the delegation that the Judiciary of Zambia has enhanced capacity building of the Judges by engaging countries such as Kenya and Zimbabwe which have similar 14-day periods for hearing and determining Presidential Election Petitions in order to learn the best practices employed by these jurisdictions in electoral dispute resolution. This, the Chief Justice said was done during the Colloquium on Electoral Justice and Preparations for the 2021 General Elections as well as the Constitutional Court Judges Induction and Comparative Electoral Justice in Presidential Election Petitions, held in May 2021.
The Hon. Chief Justice stated that the Judiciary has constituted an Adhoc Committee on Management of Election Petitions Preparations, under the auspices of the Advisory Committee on Public Relations and Information. The mandate of this committee among other things, is stakeholder engagement on the Role of the Judiciary in Elections, as well as to provide guidance on the coverage of Presidential Election Petitions to media houses, in the event of such an occurrence.