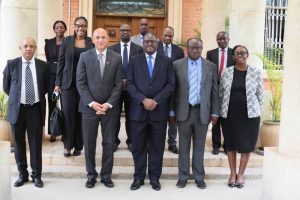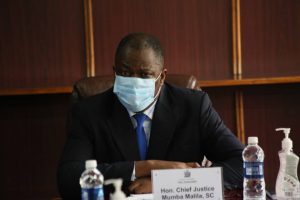 Lusaka, 15th February 2022 – the United States government represented by Mr. Martin Dale the Charge d'Affaires at the US embassy in Lusaka, this morning praised the Judiciary of Zambia on the ongoing judicial reforms being undertaken by the institution. He said this when he led US embassy officials on a courtesy call to the Judiciary.
In his welcoming remarks, His Lordship Chief Justice Mumba Malila, SC, highlighted the ongoing reforms made by the Judiciary citing the launch of the Resident Judges at provincial capitals and establishing the Economic and Financial Crimes Court. He said that SI No. 5 of 2022 establishes the Economic and Financial Crimes Division of the High Court, and that the process of vetting judges for this court is underway. At the Subordinate Court, through administrative arrangement, 8 magistrates have been identified and assigned to hear and determine criminal matters of an economic and financial crimes nature.  The Chief Justice however indicated that other changes to be undertaken require legislative reform and financial resources. He appealed to the US government to assist in capacitating judges and magistrates in areas such as training on how to handle cases relating to money laundering and financing terrorism, which are specialised areas.
Deputy Chief Justice Michael Musonda, SC echoed Justice Malila's sentiments on capacity building of adjudicators. He further indicated that Zambian courts are lagging behind comparator jurisdictions in the use of information technology in justice delivery.
Mr. Dale congratulated the Hon. Chief justice on his appointment and thanked him for his distinguished service to the people of Zambia in the various public offices held prior to his appointment as Chief Justice. He pledged the support of the US government to the Judiciary and stated that President Biden has made fighting corruption as one of his security pillar strategies.
Contact
Kalumba Chisambisha-Slavin
Judiciary of Zambia
Email: kalumba.slavin@judiciaryzambia.com