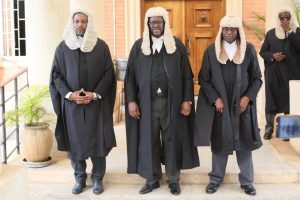 ADMISSION TO THE INNER BAR OF THE LEARNED ATTORNEY GENERAL AND THE SOLICITOR GENERAL BY HIS LORDSHIP THE HON. CHIEF JUSTICE, DR. MUMBA MALILA, SC
Lusaka, 19th July, 2022 – The learned Attorney General, Mr. Mulilo Dimas Kabesha, SC, and the Solicitor General, Mr. Marshal Mubambe Muchende, SC, were this morning the focus of the entire legal profession in Zambia, as they were called to take their place at the Inner Bar by His Lordship the Hon. Chief Justice, Dr. Mumba Malila, SC.
Speaking during the ceremony, which is much coveted and sought-after among the rank and file of the legal profession, the Hon. Chief Justice congratulated the two on their appointment as State Counsel by the Republican President. He said "you have now taken silk, the highest aspiration for every practicing lawyer. You now belong to a select band of relatively few lawyers who have been recognized for their contributions at the Bar." Chief Justice Malila, SC was quick to add that the dignity and honour that comes with taking silk is not for prestige and pomp, but comes with immense responsibilities. He urged the two State Counsel to lead and expedite legal reforms for certainty in the law, enhancement of the rule of law and protection of human rights.
Among those in attendance during the ceremony were the Hon. Minister of Justice, Mr. Mulambo Haimbe, SC, MP, the President of the Law Association of Zambia, Mr. Abyudi Shonga Jr. SC, the Chairperson of the Judicial Complaints Commission, Mr. Vincent Malambo, SC.
Contact
Kalumba Chisambisha-Slavin
kalumba.slavin@judiciaryzambia.com