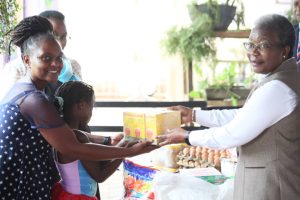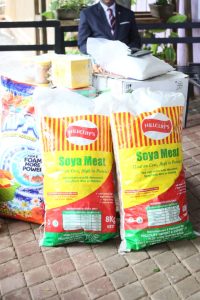 ADVISORY COMMITTEE ON GENDER IN DEVELOPMENT DONATION TO VISION OF HOPE FOUNDATION
Lusaka, 21st December 2022 – The Advisory Committee on Gender in Development led by the Chairperson, Hon. Lady Justice Anessi Banda-Bobo, this morning made a donation of various foodstuffs and cleaning materials to Vision of Hope Foundation in Meanwood Kwamwena, Lusaka. The foundation which houses 57 children, two of whom are male, has been in existence since 2009, and provides a safehouse to children in contact with the law, most of whom are victims of sexual abuse.
In handing over the donation to the Children, Justice Banda-Bobo said that the donation was made possible by contributions from Judges and other members of staff who wanted to share the little that they have with the children. She informed the children of the role the courts play in protecting them, and encouraged them to know their human rights, which would assist them recognize abuse in its various forms. Justice Banda-Bobo further advised the children to voice their concerns, and find adults to confide in, in instances where they felt unsafe.
Speaking during the interaction, Hon. Mr. Justice Kenneth Mulife responded to questions from the children such as what to do when forced into an early marriage; whether a victim of sexual abuse could return home while matters were still pending before the Courts, and/or where the preparator was on the run, and; what attributes and qualifications one ought to have to become Judge. Justice Mulife reminded the children on the importance of prayer and to always trust in God. He cited the story of Joseph in the Old Testament, as a child who went through hardships, and was later elevated to be king.
On behalf of Vision of Hope the Founder and Director, Ms. Chitalu Chishimba, thanked the Judiciary for its generosity. She however bemoaned the delays in disposing off the cases, emphasizing that this has a negative impact on the children who would like to be reintegrated into their communities. She appealed to the Judiciary to continue partnering with foundations such as this one, in providing justice for children.
Contact
Kalumba Chisambisha-Slavin
kalumba.slavin@judiciaryzambia.com