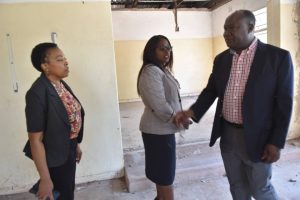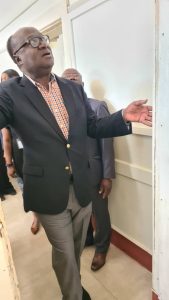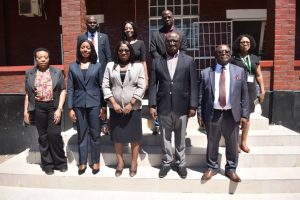 THE HON. DEPUTY CHIEF JUSTICE CONDEMNS "NI VA BOMA" ATTITUDE
Livingstone, 14th April 2023 – His Lordship the Hon. Deputy Chief Justice Mr. Justice Michael Musonda, SC together with the Judge-in-Charge for Southern Province, Justice Chilombo Maka; Hon. Mr. Justice Willie Sinyangwe; and Ms. Nchimunya Nedziwe, Chief Specialist, Legal Affairs – State House conducted a spot check on the ongoing rehabilitation works at the High Court and the High Court Judges' house.
In appraising the Deputy Chief Justice on works so far undertaken, Justice Maka presented a report highlighting some of the challenges faced as a result of the delayed completion of the rehabilitation works such as the adverse effects on the operations of the Registries; disruption of the filing and storage systems; and lack of office space. She said that the works on the high court were commissioned in May 2022 and were supposed to have been completed in September of the same year. The Judge attributed the delay in completion in part to the variations between the scope of works and the actual works undertaken by the contractor. She further stated that the state of affairs had greatly worsened the already insufficient office space, further that operations of the Registries were now conducted in intolerable working conditions.
The Deputy Chief Justice bemoaned the lack of responsibility exhibited by the contractor, evidenced by the slow pace at which work was being done, as well as the quality of the works undertaken. He called upon the contractor to deliver quality works, stating that these were being paid for using public resources, for which we are all accountable. He also expressed his disappointment at the lack of supervision by the project manager, which led to compromising quality assurance. Justice Musonda emphasized the need for Zambians to rid themselves of a "ni va boma" attitude when executing responsibilities. He commended adjudicators and members of staff for executing their duties in almost intolerable conditions and keeping the operations of the Judiciary ongoing.
Contact
Kalumba Chisambisha-Slavin
Kalumba.slavin@judiciaryzambia.com