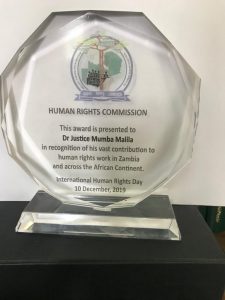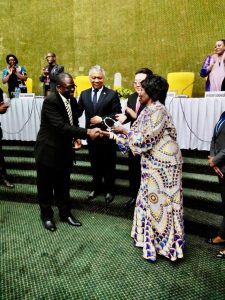 JUSTICE MALILA AWARDED FOR HUMAN RIGHTS WORK
Supreme Court Judge Justice. Dr. Mumba Malila SC was on Tuesday 10th December 2019 awarded the 2019 Zambian Human Rights Commission Award in recognition of his contribution to human rights work in Zambia and in the African region. The award was presented by Her Honour the Vice President of the Republic of Zambia, Honourable Inonge Mutukwa Wina at the commemoration of this year's United Nations Human Rights Day that took place on 10th December 2019. The event was witnessed by the Minister of Justice, Hon. Given Lubinda, The UN resident Coordinator Dr. Coumba Mar Gadio and the Commissioner of the International Commission on the Death Penalty and former Mongolian President, Mr. Tsakhiaaiin Elbegdorj.
In the citation read out at the Award presentation ceremony, the Human Rights Commission noted the immense contribution by Justice Malila to the cause of human rights when he served as Chairperson of the Human Rights Commission of Zambia prior to his elevation as Attorney-General. Justice Malila also served as a member of the African Commission on Human and Peoples' Rights, an organ of the African Union, for six years, the last two of which he was elected as the organisation's Vice Chairperson.
During his tenure as Commissioner, Justice Malila served as Special Rapporteur for Prisons and Conditions of Detention in Africa, as Chairperson of the Working Group on Extractive Industries and Human Rights Violations in Africa, as a member of the Working Group on Indigenous Populations.
The Human Rights Commission also noted the many human rights assignments undertaken by Justice Malila within and outside Zambia and the Contribution he has made to the dissemination of human rights information through various articles and books he has written over the years.
Speaking after the presentation of the Award, Vice President Wina urged Dr. Malila not to relent in the promotion of human rights for all.