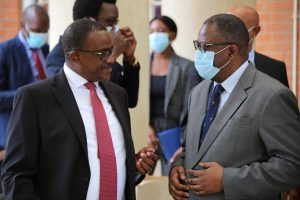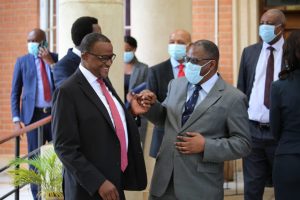 Lusaka 18th February – The strides made by the Judiciary in enhancing access to justice continue to cheer players in the justice sector. This was highlighted during a courtesy call paid on the judiciary by the Council of the Law Association of Zambia (LAZ), yesterday Thursday, 17th February comprising the President Mr. Abyudi Shonga Jr, the Vice President Mr. Lungisani Zulu and other Council Members.
In welcoming the LAZ executive, the Hon. Chief Justice Mumba Malila, SC lauded the Council on the support rendered to the Judiciary by Lawyers and looked forward to the continued partnership in enhancing access to justice. "The Bench and the Bar are partners in justice delivery and the responsibility to deliver quality justice rests on both sides of the coin" he said.
Among the subjects of discussion were topical issues impacting administration of justice with particular attention to the establishment of resident Judges at all provincial capitals in line with Article 120 (4) of the Constitution of Zambia (Amendment)Act No. 2 of 2016; the  relationship between the Bench, particularly the creation of the Permanent Bar-Bench Liaison Committee and the efforts thus far made in bridging the existing gaps between the Bar and the Bench; the infrastructural challenges plaguing the Judiciary; capacity building for Judges and Lawyers; and reforms in the Judiciary with a focus on making the courts user friendly for litigants.
LAZ President, Abyudi Shonga Jr., reiterated the preparedness of the association to support the Judiciary's efforts in making justice accessible to all Zambians. He extolled the deployment of resident Judges to the provinces which would have positive spill over effects on the welfare of LAZ members by creating employment for lawyers in the provinces, as well as bringing much needed legal services closer to the people.
Contact
Kalumba Chisambisha-Slavin
Judiciary of Zambia
Email: kalumba.slavin@judiciaryzambia.com