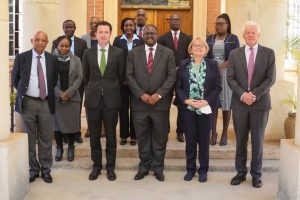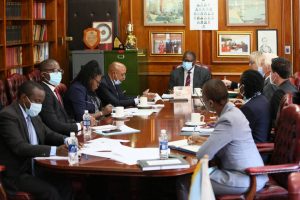 COURTESY CALL BY THE IRISH AMBASSADOR TO ZAMBIA ON HIS LORDSHIP THE HON. THE CHIEF JUSTICE
Lusaka, 14th June 2022 – the Irish Embassy led by its Ambassador Ms. Bronagh Carr, accompanied by Mr. Brian Caden – First Secretary, Ms. Milimo Mwiba – Coordinator Development Cooperation and Mr. Norville Connolly – Irish Rule of Law International (IRLI), this morning paid a courtesy call on His Lordship the Hon. Chief Justice Dr. Mumba Malila, SC. During the said meeting, the embassy pledged support to the Judiciary of Zambia in areas of need such as capacity building of adjudicators and other judicial staff, Case Management and Judicial Reforms.
In his welcoming remarks, the Hon. Chief Justice thanked the Ambassador and her team for paying a courtesy call on him, and their expressed willingness to offer support to the Judiciary on various issues. His Lordship highlighted the ongoing reforms made by the Judiciary, and cited the establishment of the Economic and Financial Crimes court at the Subordinate and High Court levels, as part of such reforms. The Chief Justice explained that the rationale behind the creation of the Court was to introduce a fast track procedure in handling matters of a financial and economic nature. He however observed that despite the said intent, cases have suffered a certain measure of delay due to a number of reasons. He emphasized that in operationalizing the court there was need to create a structure that feeds into the existing system without causing disharmony, and that this can only be achieved by the collaborative efforts of all players in the justice sector.
The Chief Justice further indicated that other changes to be undertaken require legislative reform and financial resources. He appealed to the Irish government to assist in capacitating judges and magistrates in areas such as training on how to handle intricate cases relating to money laundering and asset recovery, which are specialised areas, as well as the effective utilization of Research Advocates as a judicial resource.
In response, Ms. Carr lauded the relationship between the governments of Zambia and Ireland, and that this was an opportunity to strengthen cooperation between the two countries, by fostering continuous knowledge exchanges between adjudicators, which would invariably enhance access to justice.
______________________________________________________________________________
Contact
Kalumba Chisambisha-Slavin
Judiciary of Zambia
Email: kalumba.slavin@judiciaryzambia.com