Zambia Association of Women Judges (ZAWJ) has (today 14th October 2020)
made a donation of K 10,000.00 to Chimbokaila Remand prison female section
for the refurbishment and repair of the cooking boiler used by inmates that has
been broken down for over a year.
Handing over the Cheque on behalf of the Association Hon. Mrs. Justice Nicola
A. Sharpe Phiri the Vice President of the Association stated that the Association
was pleased to fulfil its promise to the remand facility to help repair the boiler
in order to lessen the challenges facing inmates with regards to preparation of
meals.
This donation is in line with the objectives of the Association which among
others is to promote access to justice for all and the advancement of women's
right to equal justice and promotion of women's access to courts.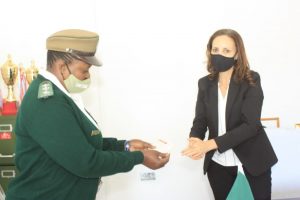 In Picture Hon. Mrs. Justice Nicola A. Sharpe Phiri Vice President ZAWJ hands over a Cheque to Deputy
Officer in-Charge at Chimbokaila remand Prison Female Section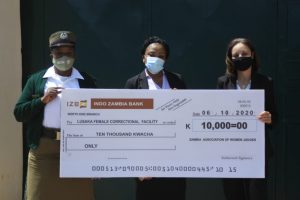 In picture Vice President of ZAWJ (Right) with Hon. T. Chabala Treasurer ZAWJ
(Center ) pose with The Deputy officer In-charge Female Section at
Chimbokaila