The Honourable Chief Justice of the Republic of Zambia, Lady Justice Irene C. Mambilima has implored newly sworn-in Members of the Rating Valuation Tribunal to uphold professional ethics and conduct as they execute their duties.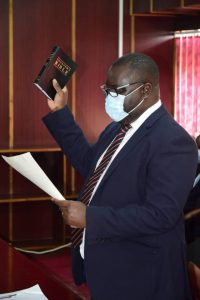 The Hon. Lady Justice Mambilima stated that valuation issues were problematic and therefore required Members to remain focussed and to deliver timeous decisions in accordance with the provisions of the Rating Act of 2018.
"Being a quasi-judicial tribunal, you are required to observe due process, rules of natural justice and tenets of fairness. You have a lot of work but I call upon you to be focussed as you resolve valuation disputes," she said.
Earlier, Minister of Local Government and Housing, Dr. Charles Banda MP reminded the Members that their position was not only a great honour but also one that comes with immense responsibility.
He stressed that in dealing with the first task of setting rates, the Tribunal must ensure that fairness prevails at all times.
Those sworn-in include the Chairperson Mr. Joseph Alexander Jalasi, Vice Chairperson Mr. Morgan Mukwasa and Members Ms. Nachimata Siwale Nchito, Mr. Trevor Mwaba, Mr. Evans Chande, Ms. Theresa Munaiko Theu, Mr. Burton Brian Chirwa. Ms. Margaret Chanda Kapanda and Ms. Jemimah Bwalya Musonda.